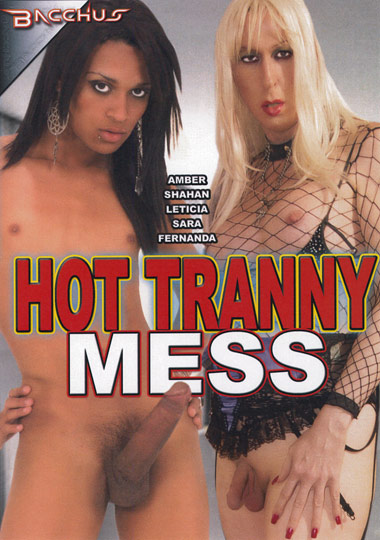 Hot Tranny Mess (2013)
Starring:
Delightful Debi, Tessa Dali, Amber Kelley, Leticia Venture, Sabrina, Shahan, Rafaela Ninfeta (Sara Jackson) (Avilla Jackson), Bruno Stygmata, Fernanda Diaz, Alexandre Senna
Categories:
Shemale / Tranny
Date Added:
2013
(1737mb)
These ladies aren't a mess at all, and they're definitely not a hot tranny mess – well, that is… if you take out the "mess", you'd have one hot tranny. There 5 hot trannies in fact, and each one of them are packin' nuts, butts, and they're ready to be a s… you get the point. They love getting their asses eaten, and they love getting their holes split wide – and the only thing they love more than that is splitting holes themselves!
Download / Show

Most Viewed
Curvy vixen Kimberlee has her tightest and sexiest dress on, showing off her huge tits and her unstoppable thighs and booty. The big-lipped beauty tells you all about the naughty things she wants to do to you as soon as she can! Kimberlee seductively strips, showing off her sexy black panties and stockings, rubbing her nipples and letting her long black hair tease you as she works herself into a frenzy. Kimberlee strokes herself, rubbing her bulge before taking out her thickest dildo to show off how hungry she is for cock. Kimberlee sucks the thick toy before sliding it into her hole for a hot and heavy ride that doesn't stop until she's blown her load all over herself in the sexy and sensual solo scene.
With the curly-haired cutie Josie (Alisia Rae) seduced to the dark side, Annie (Daisy Taylor) has all of the pieces she needs to lure Rebecca (Ella Hollywood) back into the fold, and just in time for Notre-Ange-du-Bois's big orientation dance. Annie backs Rebecca into a corner, showing her a magically subdued Michael (Dante Colle) and inviting her to make her commitment to magic official with a good old fashioned human sacrifice. Rebecca is tempted by the promise of power, but makes a final choice... the choice to choose for herself. With Annie dealt with, the three college freshmen decide it's time for them to finally get around to that sexual experimentation that people are always talking about with a three-way fuck fest that will leave you bewitched. In the conclusion to the series conceptualized by Daisy Taylor, Ella Hollywood steps into the spotlight, letting Dante and Alisia strip her down as they kiss and tease her, licking and stroking her tight body as the three sexy stars align in a constellation of cum-hungry college cock-sucking.
Charlotte Diaz is diligently studying her Spanish when her tutor comes in to check on her progress. She has always had a crush on him and finally she strikes up the nerve to act on her innermost desires. He quickly falls for her seductive charms as she gets him rock hard with her youthful energy and enthusiasm. Riding his big hard dick really makes her squeal with delight as this naughty schoolgirl gets an A for effort
Stella Locke is a normal everyday trans girl but as soon as her daddy comes home, its time to be a submissive sissy cock slut. She does exactly what she is told and her master wants to fuck her ass all over the living room.
Everyone is curious about trannies. If you're here because you already know the score, come on in and have some fun! If you're new to chicks with dicks, then you've chosen wisely!Watch scorching blowjobs and juicy ass licking! Whether it's a guy with a tranny or two trannies together, you'll get all the anal pounding you're looking for and the sticky cumshot endings you want too!