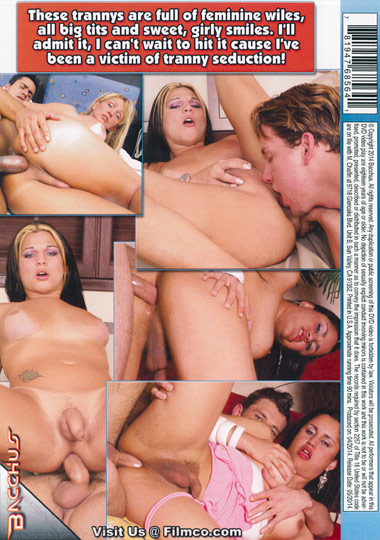 Tranny Seduction 2 (2014)
Starring:
Dayane Callegare, Alex Junior, Juliana Araujo, Julio, Sabrina de Paula, Marco Zanotti, Nayla Vogue, Alan Marcelo
Categories:
Shemale / Tranny
Date Added:
2014
(1237mb)
These trannys are full of feminine wiles, all big tits and sweet girly smiles. I'll admit it, I can't wait to hit it 'cause I've been a victim of tranny seduction!
Download / Show

Most Viewed
When you pick up a beautiful girl, and you take her to your place, things are going pretty good. You're sucking on those big firm tits, and she's sucking your cock. it's all good. But wait, there's more a lot more she drops her panties and now there's 2 cocks, yours and hers! So what do you do? Bend over and let this beautiful tranny give it to you right up the ass, and she'll be more than happy to return the favor! T-girls like pussy too!
Do you put it in her butt or let her open you up with hers? Who cares about etiquette when you got a hot Tranny in your midst! These She-Males are hot and they want to suck and fuck until it hurts. They may wear the pants in their relationships, but there are no pants in any of these scenes, only hardcore action! Cum see the sights and marvel at the exotic action!
Looking for that perfect tranny to make your night? Well here they are! These nasty nymphs are top of the line fine! What's better than a beautiful face and a huge cock to ram your tight ass with! Cum and watch these lucky studs get a mouthful of the best trannies around.
One cock too many is suck an unexpected treat!! More meat to work with is always a bonus when holes need to get plugged! Cum watch these gorgeous Trannies get and give a mouth full and an ass full of hot steamy cock!! These She Males suck and fuck their way through each hot and hardcore scene!! Cum enjoy the fun!!
It's not a secret of how horny tranny's are. They're some of the most sexual beings on the planet by nature. These men know that, and that's exactly why they call them to start and finish their every sexual desire. There's nothing that these shemales won't do, no boundaries they dare not cross. They explore each other's bodies with a fervent desire that you won't ever forget!
Alright guys so you want to know what it feels like suck cock and get your ass reamed out but you're not attracted to men?! Well there is an alternative! She's the Venus with a penis! These Hot Transsexuals are the best looking women you'll ever see! They are sexy, passionate and every bit a man! Watch these Transsexuals take sensual strong strokes to their very core.
She's all you'll need, require, want . . . and more! If you've ever dreamed about a woman with swinging balls and a big cock, now is your chance to experience what a real tranny has to offer! These beauties have secrets that are definitely worth sharing! After seeing them in action you may develop a little penis envy of your own!