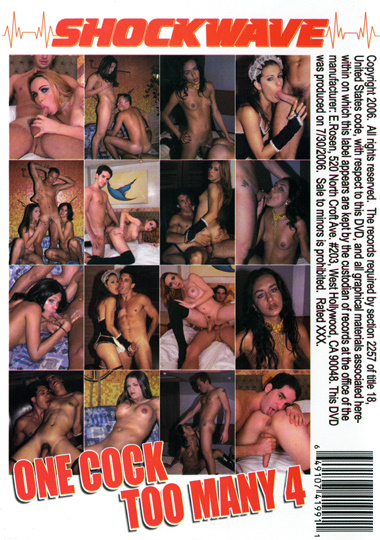 One Cock Too Many 4 (2006)
Starring:
Karol Castro, Maurinho Manson, Gabriela Silva, Paulo Machy, Camilla Jolie, Ravena Fontana, Marcelo Moura, Isabelle Brandao, Felix Stulback
Categories:
Shemale / Tranny
Date Added:
2006
(1337mb)
Looking for that perfect tranny to make your night? Well here they are! These nasty nymphs are top of the line fine! What's better than a beautiful face and a huge cock to ram your tight ass with! Cum and watch these lucky studs get a mouthful of the best trannies around.

Most Viewed
One cock too many is suck an unexpected treat!! More meat to work with is always a bonus when holes need to get plugged! Cum watch these gorgeous Trannies get and give a mouth full and an ass full of hot steamy cock!! These She Males suck and fuck their way through each hot and hardcore scene!! Cum enjoy the fun!!
It's not a secret of how horny tranny's are. They're some of the most sexual beings on the planet by nature. These men know that, and that's exactly why they call them to start and finish their every sexual desire. There's nothing that these shemales won't do, no boundaries they dare not cross. They explore each other's bodies with a fervent desire that you won't ever forget!
Alright guys so you want to know what it feels like suck cock and get your ass reamed out but you're not attracted to men?! Well there is an alternative! She's the Venus with a penis! These Hot Transsexuals are the best looking women you'll ever see! They are sexy, passionate and every bit a man! Watch these Transsexuals take sensual strong strokes to their very core.
She's all you'll need, require, want . . . and more! If you've ever dreamed about a woman with swinging balls and a big cock, now is your chance to experience what a real tranny has to offer! These beauties have secrets that are definitely worth sharing! After seeing them in action you may develop a little penis envy of your own!
These T-girls are gonna rock your world like no other! They work hard and play harder. Hours of hard hitting and hot ass pounding and dick sucking! They are fucking and sucking everything in her path with style. These beautiful young T-girls get a surprise visit from friends.
As girlie as they can get and still have a dick, these transsexuals don't just take it to the limit, they take it all the way to extreme to be the best t-girls they can be!
Extremely horny, extremely good looking, extremely tranny girls take it over the top and up the ass in this hardcore action! Take it all the way girl, take it to the extreme!